It May Surprise You To Learn That Professional Grooming Enhances A Dog's Welfare.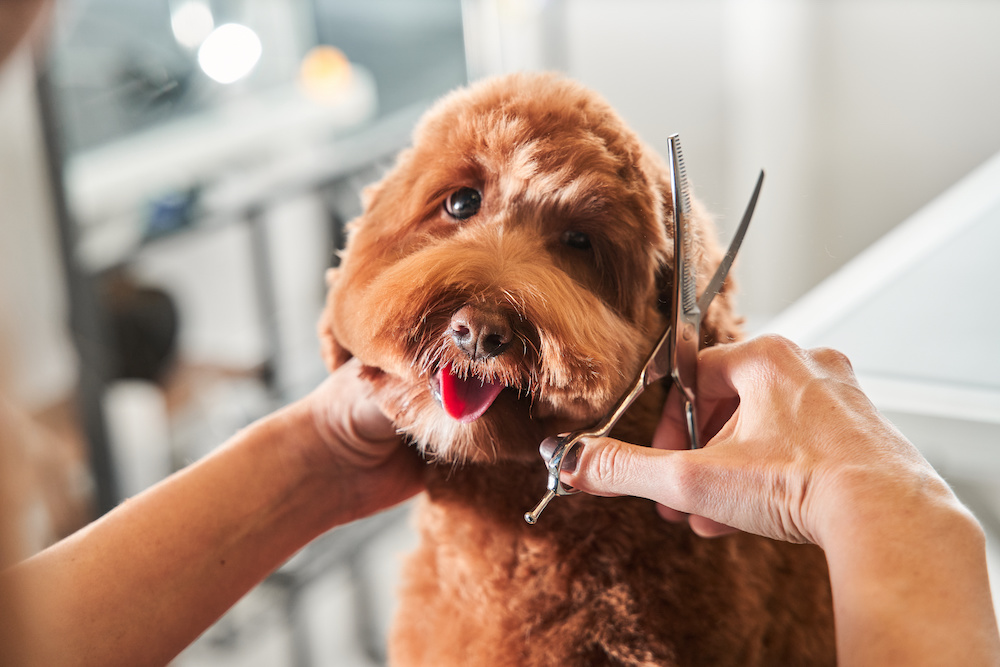 Professional dog grooming is not just about making dogs look good. Regular grooming sessions that are done by professionals can help promote better hygiene and health for dogs. This article delves into the benefits of professional dog grooming for dogs. Professional grooming is not just about aesthetics; it contributes significantly to a dog's overall health and well-being. Regular grooming of your pet promotes good hygiene, prevents health issues, reduces stress and anxiety, and improves a dog's behaviour and socialisation. This is every dog owner's responsibility… you must groom your dog!
Keep reading to find out more about the importance of canine grooming…
It's All In The training
A well-trained dog groomer doesn't just do great haircuts. We are the front line in offering a service that contributes hugely to the well-being and comfort of the dogs in our care. Abbfabb Academy of Dog Grooming Training values the welfare of the dogs in our care as much as the standard of the haircut.
What The Law Says
There is an important piece of legislation called The Animal Welfare Act, and part of this Act is called The Five Needs. These give animals the right to certain things and they are at the core of our training courses. These Needs are the responsibility of everyone who has care of animals and they apply to, for example, owners and groomers.
These are some of the ways that we obey this Law in our grooming school.
1. The Need For A Suitable Environment. In our fully equipped grooming salon, this is done by regular and thorough cleaning, by having the appropriate baths, crates, tables and equipment that are clean and suitable for the purpose. We have the right tools for grooming the dogs and we have a large air-extraction system that keeps the temperature comfortable and the air quality good.
2. The Need For A Suitable Diet. We don't feed dogs in our salon ( unless medically necessary ) because of the risk of an allergic reaction. But we do offer cool, fresh water regularly to all the dogs while they're with us.
3. The Need To Exhibit Normal Behaviour Patterns. All dogs are taken out for regular comfort breaks while they're with us. Dogs in our care aren't forced to stand up by using straps and restraints…..we work with what the dogs need and continually observe their health condition while they're being groomed.
4. The Need To Be Housed With, Or Apart From, Other Animals (dogs, in our salon ). So we keep housemates together if they get along, and if they don't, we keep them apart. This is why I believe that it is dangerous to have a salon where all the dogs run about together…..they may fight, try to mate, and pass on ticks and fleas and possibly contagious diseases.
5. The Need To Be Protected From Pain, Suffering, Injury And Disease. This is the central point of our training courses and it's our belief that professional dog groomers should have a major impact on animal wellness. All our students are taught how to safely handle their grooming tools…think sharp scissors and clipper blades. Absolutely no harsh handling is allowed. All our electrical equipment is checked as required by law. Our floors are all non-slip. We have a system of double-door security to prevent dogs from running off and possibly getting injured.
The health check is compulsory to help us identify abnormalities or diseases. Dogs that are matted are clipped off…..we do not inflict pain on dogs in our care for the sake of cosmetic appearance. Many pet owners aren't aware of why grooming is so important, and that their dogs need regular grooming. So we try to work with our clients to help them when grooming their dogs at home.
Health checking the dogs… How do we find any problems
Here at Abbfabb Academy of Dog Grooming Training, we put great emphasis on teaching our students about the health and welfare of dogs and how to achieve this with thorough grooming. For both the City and Guilds Levels 2 Certificate and the City and Guilds Level 3 Diploma, the health check is taught in great detail.
You are shown the correct technique on how to safely check each area and what to look for…..for example the condition of the eyes, lumps and bumps, knotted coats and ingrown toenails. Dried mud can lump the hair together around the toes and mask grass seeds which will cause great discomfort to the dog.
Dog Groomers aren't legally allowed to diagnose any condition, but what we CAN do is recognise signs of any external abnormalities while a dog is in our care. And of course, let the client know so that they can get off to their veterinarian as soon as possible. This helps to promote responsible dog ownership.
Carrying out a health check isn't just about what you can see on the body…..it's also about being able to see how a dog walks, how it carries its head and its body language. Together with the physical health check, this offers us as groomers to have the whole picture.
A good grasp of anatomy is important…..this enables us to see and feel whether a dog has, for example, enlarged joints. This helps us to make sure that the dog will be made comfortable during the grooming process.
Professional Dog Groomers And Their Clients
Dogs probably visit their professional dog grooming salon more often than they go to the vet. The average time for a grooming visit is every 6 weeks so dog groomers are in a great position to be able to regularly check their client's dogs over and spot anything which isn't right.
During my years as a dog groomer I have seen some very odd, and sometimes upsetting sights… a dog with a coat so badly knotted that a mouse had burrowed under the coat and died…and was stuck in the coat. On another occasion a client had just rescued a dog… they brought her straight in for grooming and nobody realised that she was pregnant…while in my salon she went into labour and the little dog's new owners had not only their new girl but 3 puppies into the bargain!
We spend time showing our clients how to perform a health check at home. We always let them know if we find any abnormalities, but it's important that the clients can do the same at home.
It's All In The Dog Grooming Qualifications
During the training for the City and Guilds Level 2 Certificate for Dog Grooming Assistants, our students are taught the basics of the health check….this includes how to spot parasites, especially in the summer. So be prepared to be confronted with fleas and ticks !!
For the City and Guilds Level 3 Diploma you will continue to use your knowledge confidently and competently so that you are able to do the very best for the dogs in your care. Gentle and patient handling is essential and is taught to all our students.
The Best Of Both Worlds For Dogs And Groomers
Abbfabb Grooming Academy is a working grooming salon, with a very wide range of dogs coming to us. Our students have the opportunity to work with and see the true picture of life as a commercial dog groomer and the potential health problems dogs could be suffering from.
Sadly we can't stop animal cruelty and neglect in the world. But with the excellent standard of professional dog grooming training that we offer in our training school, we can help our students to help dogs look their best AND to play a vital role in improving the health and well-being of all the dogs that we see.
We believe that we offer the best in professional dog grooming practices.